Programming in the Age of COVID-19: How We're Still Making Magic Happen!
A Message from our Executive Director, Nicky Nash
Our small but mighty team has done an incredible job at pivoting and reinventing how we deliver programs. At the start of the COVID-19 pandemic, we made a conscious effort to lean into our core organizational values and allow them to inspire and lead our work (collaboration, fun, integrity, inclusion, and agility).
Kids At Home is our virtual platform for connecting kids with engaging online activities. We see the program's true potential, how it can be a game-changer for our agency partners, and the thousands of deserving children and families they support. What started as a simple way to provide our communities with family-friendly resources during lockdown has grown into a powerful new tool for enriching the lives of kids across southern Alberta.
Kids At Home is rapidly expanding to include an exciting range of meaningful learning and recreation opportunities and at-home activity packages delivered right to our kids' doors. Because of Kids At Home, our kids are coding, cooking, performing, writing, exercising, building, and so much more. And the timing couldn't be better.
UNICEF says school closures, disrupted routines, and the loss of outdoor fun are negatively impacting the physical and mental health of our youngest and most vulnerable citizens. More than ever, supporting kids is critical – and we're hearing from our agency partners that Kids At Home is doing just that. They've told us that this brilliant new project – one we developed and rolled out in the middle of a pandemic without any new funding – fills an unmet need for programming with a truly equitable reach.
436 weekly visitors on the Kids At Home website
691 activity packages with crayons provided to our kids to date
152 wishlist items sourced and sent to our agency partners (puzzles, iPads, games, etc.)
2,500 toys, games and other items that will be distributed soon!
7 Kids Up Front Instagram live shows(cooking classes, poetry, Flames alumni interview, and more)
14 pals matched and eight more on the waitlist. Pen pals and Zoom Pals between our kids and seniors (a pilot project with the Kerby Centre)
500 Pancake Project kits delivered to our kids in July that included pancake mix, syrup, a Stampede theme activity package and crayons
19 virtual summer camp spots filled to date
100 Zoo passes and 39 movie vouchers distributed to date. With museums, attractions and art galleries opening, we will continue to focus on this area of need
700 kids are currently on the wishlist for attraction passes
We released our annual report, research project and launched an updated website.
These are experiences kids can enjoy with just a few clicks, and our partners say they would love to see them remain part of our efforts even after we return to our favourite Kids Up Front gathering places.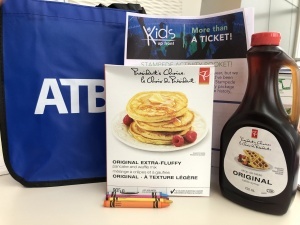 Our biggest challenge to date has been a significant drop in revenue due to the cancellation of five major fundraising events/initiatives. We've lost over $26,500 to date, and that number is expected to grow as the pandemic continues.
We've also lost a large piece of our program because of the cancellation of major events and professional sports. To date, we have lost over $434,000 worth of opportunities and tickets representing over 11,200 experiences for kids. This number is also expected to grow.
Our organization accomplished so much in a short time. We responded effectively, and we have so much to look forward to as we tackle the challenges ahead with more determination than ever.
How Can you Help?
We need your support in order to create, innovate and continue to support kids and families in our community! Our supporters make our work possible and we are so grateful for everyone who has supported us in making dreams come true.
Nicky Nash
Executive Director